This post may contain affiliate links, meaning, at no additional cost to you, if you click through and make a purchase, I may receive a commission. Read full disclosure and privacy policy here.
It's that time of year to start thinking about what to get that special Momma in your life. Here we are with a list of five gifts for special needs moms on Mother's Day.
I always struggle this time of year trying to figure out what to get my Mom on Mother's Day. She's amazing. No really, she is what you want yourself to be as a mother. Supportive, always there, objective, a great listener, gives constructive advice after you've asked for it. She loves unconditionally, and trust me when I say that I've tested that theory. She is not only a great mother, but she's also a best friend, a truly amazing grandmother and I honestly don't know what I'd do without her.
So, What do you get the women that gave you the gift of life? Seriously, how do you repay that? The best part about being a mom, well at least to me, is that you get to watch these little and slightly different versions of yourself grow from infants and toddlers. You have this unconditional love that you've never felt before, and it just completely fills your soul. These little humans smile up at you and your heart bursts with pure joy.
But here we are, with Mother's Day around the corner and absolutely no clue what to get. I'm here to help you! Being the ever cool special needs Momma that I am, I'll share with you what any Mom wouldn't mind getting. Hint, hint, dearest hubby!!
Top Five Gifts for the Special Needs Moms on Mother's Day
Here we are coming up on Mother's Day, and I'm a special needs momma. My husband asks me all the time what I want. Well, here's my top 5 gifts for the special needs mom on Mother's Day. In no particular order…
1. Spa Service Gift Card
Now this one is easy. You can pick up a gift card from any CVS or Walgreen's, or right here at SpaFinder.com (this one has an instant download if you like to procrastinate like me, and p.s. it's an affiliate link). The gift card is nice, especially if you leave it up to the Momma in need to choose her preferred location. Just make sure to block and tackle so that she can enjoy some time without feeling like she's abandoning her family!
2. House Cleaning Services
This should be a no-brainer. What Mom, special needs or not, wouldn't want someone else to get all the dog hair out from, well…everywhere? Who wouldn't want someone else cleaning out the deep dark crevices of the couch for cheerios? I would love for someone to come to my house to give it a nice deep clean. Lucky for you, Amazon now offers way to get those services! Check it out here: Amazon House Cleaning Services (Affiliate link)
3. Wine! Yes, please!
What I wouldn't give for a bottle of pink Moscato. It's light with a fruity aroma, beautiful legs… I like wine… a lot.  However, I don't drink it that often.  I have two kids, a husband in school and I work an extended full-time job, and also try to run this wonderful website.  If I were the ecstatic receiver of such a gift, I would love for it to come with a block of time that I can spend drinking this with my best of friends, and/or my wonderful mother.  Hint, hint!  It's a two-for-one idea right here.  If you do this right, you not only get the mother of your children a bottle of wine, but grab some time with mother-in-law as well, and boom!  You've got yourself two happy women in your life.
$20 off your first order of $100 or more with code 20NEW
4. Take Out with Mom's Choice for Dinner
Wait, what?!? Why, Sara, are you not telling me to take her to a fancy restaurant? I'm so glad you asked! What Mom wants to go out on one of the busiest nights of the year with all the other Mom's and Grandma's and their family's when they can stay in with their family and not worry about the kids? I know it's stressful for our family to go to a restaurant. Riley's in a wheelchair, it's hard enough trying to get a table for the 4 of us that will accommodate the wheelchair.
It's usually 6 of us, though, as we have my parents in the house as well. 6 people, one of which is a wheelchair, is like winning the lottery if you get a table that the server won't drop food on your daughter, the chair isn't sticking out into the walkway, and you don't have to wait an hour for an "appropriate" table. If you haven't read our story yet, check it out here.
Oh yeah, it's tough going out to eat. Let's just skip the stress, order take-out from Mom's favorite restaurant, and please don't forget the dessert.
Want to give GrubHub a try? Click here for $12 off your first order of $15 or more.
5. Let Her Sleep!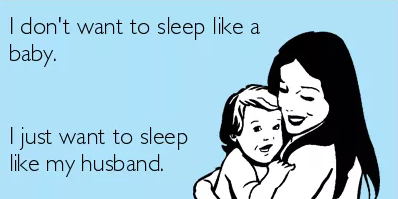 I'm spoiled. I have an amazing husband who let's this exhausted Momma sleep in on Saturday's. I think it has something to do with the freight train I sleep next to every night. He may feel a bit guilty… especially when I start yelling "Stop snoring!!" around 3 am and kick the bed like a 3 year old throwing a temper tantrum. Seriously though, let her sleep in. Kick this up a notch and make her breakfast while you let her sleep in. Get the kids involved if they can. I just want to be 21 again and sleep until 3 pm, but I also want to go to bed at 8 pm. I'll only need about a year of that to catch up on the lost sleep.
Any tips on gift ideas for the Mom in your life this Mother's Day?
I'd highly recommend any of these gifts for special needs moms. Some a little pricier than others, but you can find some, like sleeping in, that do not cost money at all. Help the kiddos make homemade cards, or take the family out for a picnic with items you have on hand. I promise, the fact that you took the time for her in appreciation of all she does for the family is going to go a long way.
I personally love the "flowers" my son picks to give me from him and his sister who can't do it herself. Want to know a little secret? He picks weeds, but they are the most beautiful weeds I've ever seen because all I see is the love behind them… a bottle of Claritin my help as well.
Did you get to the end and wonder why all these gifts look like things for your typical mom's out there?  Here's a fun fact, a special needs mom is still your every day mom, just with some unplanned diagnosis.  You Mom's out there that are *normal* moms could do what us special needs mom's do if you were in our shoes.  We're all in this together, typical, atypical… in the end I'm just Mom.
I hope these ideas helped with the upcoming Mother's Day planning, and I hope that the Mom's out there find some time to relax and just enjoy being Mom. Happy Mother's Day everyone!